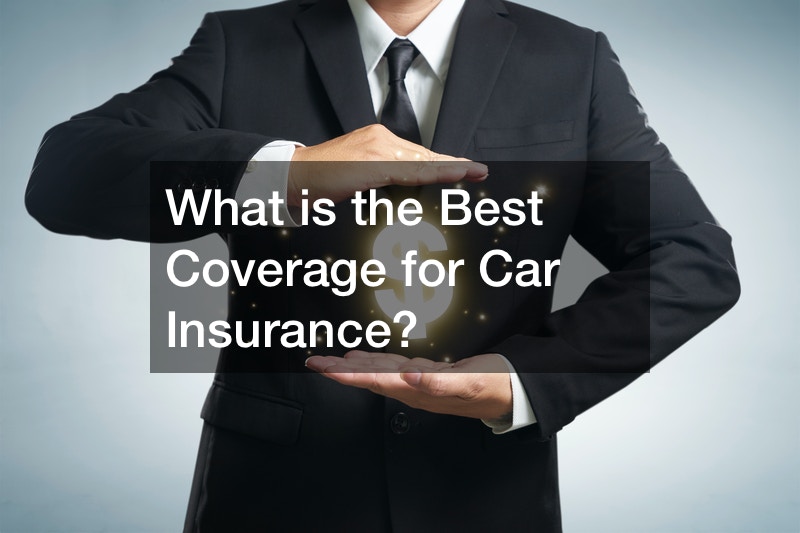 If you're wondering, 'What is the best coverage for car insurance?' you're not alone. Most people appreciate the benefits of car insurance, such as it covers the cost of vehicle repairs caused by an accident, theft, and fire. It can also cover legal fees if you're involved in an accident-related lawsuit and need to hire a car accident attorney. Given all these benefits, it's important to strike the right balance between having enough coverage without breaking the bank. You can opt for the minimum amount of car insurance required to meet your needs or pay for a little extra coverage. This article explores everything you need to know to answer the question, 'What is the best coverage for car insurance?
First, we start by looking at the common types of car insurance coverage you can get.
Liability Coverage
Almost every state in the US requires drivers to have liability car insurance. So when discussing what is the best coverage for car insurance, it's important to remember that this option is compulsory. Liability coverage does not cover the driver or the driver's property. Instead, liability insurance covers third parties and their property. Thus, this kind of coverage provides financial protection to you when you harm someone or cause damage to their property while driving a vehicle. So liability car insurance has two parts which are bodily injury liability and property damage liability. As the name suggests, bodily injury liability will cover the medical bills for third parties involved in an accident you have caused.
On the other hand, property damage liability covers the costs of vehicle repairs and repairs to damaged property that belongs to other drivers involved in the accident other than you. So, let's say you are involved in an accident, and you've been found to be at fault. If you have liability insurance, your insurance company will pay the car repair, property expenses, and medical bills of other drivers involved in the accident. The payout will depend on the limits of your policy. It's crucial to find out the requirements for liability car insurance in your state so that you're fully compliant.
Collision Coverage
When figuring out what is the best coverage for car insurance, you're not only looking for coverage that protects you but the coverage that protects your vehicle as well. This is where collision coverage comes in. Simply put, collision coverage will compensate you for any damage sustained to your vehicle during an accident. The collision can be with another vehicle or an object, such as a pole or fence. As the name suggests, this insurance strictly covers damage caused by collisions and not for other reasons such as theft or vandalism. If you have collision coverage, it will only kick in to cover damage that hasn't already been covered by the driver at fault's policy.
Unlike liability insurance coverage, collision coverage is not compulsory. However, you may still be required to take out collision insurance by your vehicle's lender. That way, if you collide with a telephone pole or guard rail and your car needs window replacement, AC repair, car upholstery, or ac replacement, your collision insurance can cover this. Keep in mind that collision insurance can only be bought together with liability car insurance or comprehensive insurance. Though it can be a bit pricey, there are ways to lower your premiums.
Comprehensive Coverage
If we are talking about, 'What is the best coverage for car insurance?' then comprehensive insurance has to be one of the top answers because this is the highest level of insurance you can get. Comprehensive insurance will cover repairs to your vehicle caused by a variety of factors, such as theft, vandalism, fire, and hail. As long as your vehicle gets damaged by a covered peril, comprehensive insurance will cover it. The coverage pays for the cost of repairing or replacing your vehicle up to the actual cash value. So, comprehensive makes more sense if you have a fairly new vehicle that still retains a significant amount of value.
Comprehensive insurance is not compulsory, but it may be part of the requirements when you take out a vehicle loan. It is not to be confused with collision insurance. To backtrack, liability coverage is the most basic coverage you can get, but it only pays for damage you cause to others. If you want to take things up a notch, then you have to consider collision and comprehensive collision, which pay for damages sustained by your car. However, collision coverage only pays for crash-related damages, such as when you collide with an object or another vehicle. On the other hand, comprehensive insurance pays for damage, such as car theft or damage caused by fire or the weather that are not related to crashes.
Medical Payments Coverage
Medical payments coverage or medical expense coverage is typically shortened to MedPay, and it can be part of your auto insurance policy. It's only available in states where personal injury protection coverage is not available. As the name suggests, this coverage is designed to pay for medical expenses for you or your passengers if you sustain injuries in a car accident while occupying the insured vehicle. The list of medical expenses that are covered included hospital visits, nursing services, surgery, X-rays, and ambulance fees. This type of insurance can be compulsory or optional, depending on the state you live in. However, in the majority of states, medical payments coverage is optional.
That means if you don't have this coverage, you will have to take care of your or your passengers' medical bills on your own. Even if you have auto liability coverage, it will not cover these medical expenses, but it will pay for the other party's medical expenses since they're covered by the bodily injury liability portion of your liability insurance policy. Medical payments coverage may be similar to personal injury protection coverage in that it pays for your or your passengers' medical expenses. However, personal injury protection works somewhat differently, as you will discover when you learn more about this type of insurance.
Personal Injury Protection Coverage
Personal injury protection coverage is also known as 'no-fault insurance.' It's designed to pay for medical expenses that are not covered by your health insurance. If you have been injured in an auto accident. As mentioned, PIP coverage is referred to as no-fault insurance because it provides coverage regardless of whether or not you're at fault. Like liability insurance, PIP coverage is compulsory in most states. The good thing about PIP insurance is that coverage can be extended to include lost wages, which can help reduce financial stressors as you recover from an injury after an accident.
This type of coverage can even help you if you're not a driver or passenger in the car. For instance, if you sustain injuries in a car accident as a pedestrian, you'll still be covered. Generally, PIP insurance is designed to pay for injuries sustained in automotive collisions, and it pays for the medical expense that your regular health insurance doesn't cover. It also covers medical bills that are not covered by medical payments coverage. The main difference between PIP insurance and bodily injury liability insurance is that it covers you and the passengers in your vehicle. On the other hand, bodily injury liability insurance covers the people in other vehicles when the accident is your fault.
Uninsured And Underinsured Motorist Coverage
This type of insurance coverage applies if you're hit by a driver who doesn't have any coverage. The name is pretty self-explanatory. Some drivers don't have enough insurance coverage, or they don't have insurance coverage at all. For instance, you can get hit by a driver with liability insurance, but the policy is so limited it can't even cover your medical expenses. This type of insurance may be optional or required depending on your state. As you try to figure the best answer to 'What is the best coverage for car insurance?' you should think about the consequences of being uninsured and underinsured, especially when you hit and injure someone. Without enough coverage, you'll be responsible for paying for the injured person's medical bills out of pocket.
Consider Additional Insurance Coverage
In the previous sections, we looked at the most common types of car insurance. However, you can also consider getting additional coverage. Additional coverage is always an option, but it can make life easier in many ways. Examples of additional insurance include gap coverage, truck bed cover, new car replacement coverage, sound system coverage, and even classic car insurance. It's important to speak with your insurance agent, so they can help you understand the best coverage for your needs.
Factors to Consider When Deciding the Best Car Insurance Coverage
So, now that you understand the different subsets of auto insurance, it becomes easier to find the right car insurance and determine what is the best coverage for car insurance. As you can see, different policies come with different features, so you might need additional tips to help you choose the best auto insurance option. Starting from the beginning, you'll need to have auto liability insurance whatever you do because it's compulsory. This is what we call third-party insurance. If you need coverage for yourself, then you also need a policy that not only includes third-party benefits but which also protects you and your own vehicle.
So, for instance, if you run a limousine service, having comprehensive insurance or collision insurance means that your vehicles are covered. If you want to make the most of your car insurance while having the best coverage, you should also sit down and calculate the IDV, which will help you determine the proper cover as per your requirements. Another important factor you have to consider is the insurance company's claim process. Even if you have the best coverage, you need coverage when you need it most once you make your claim. The claim process must be convenient. Generally, it's best to choose a good insurer who has good customer service and a good track record when it comes to settling claims.
Ways to Reduce the Cost of Car Insurance
As you think about what is the best coverage for car insurance, it also helps to look for ways to keep your auto insurance costs down. One of the first things you can do to reduce the cost of car insurance is to shop around. This allows you to get multiple car insurance costs which you can then compare to decide the best price for you. The second most effective way to reduce the cost of car insurance is to pay a higher deductible. This is the money you have to pay from your pocket before your insurance policy takes over.
So, if you have a higher deductible and you submit a claim after getting quotes from water damage companies, you have to pay a certain amount before your policy kicks in. Another way to reduce the cost of insurance is by reducing the number of claims you make each year. For instance, if you have a trucking career, you may not spend a lot of time driving your own personal automobile, and you can get a low mileage discount if the insurance company determines that your risk of being involved in an accident is lower.
Similarly, other modifications that increase the safety of the car while on the road can help you get a discount, although modifications like car wraps may not help to lower your insurance costs. Other ways to reduce the cost of insurance include bundling your own homeowners' insurance and auto coverage or asking about group insurance.
As you can see, there is no one-size-fits-all solution when it comes to what is the best coverage for car insurance. That said when you understand the different types of coverage and whether they meet your needs, this can help you determine the best car insurance solution. To be on the safe side, it's always recommended to carry the highest affordable amount of liability coverage. Before you decide what is the best coverage for car insurance, remember, it's all about protecting you and your assets.