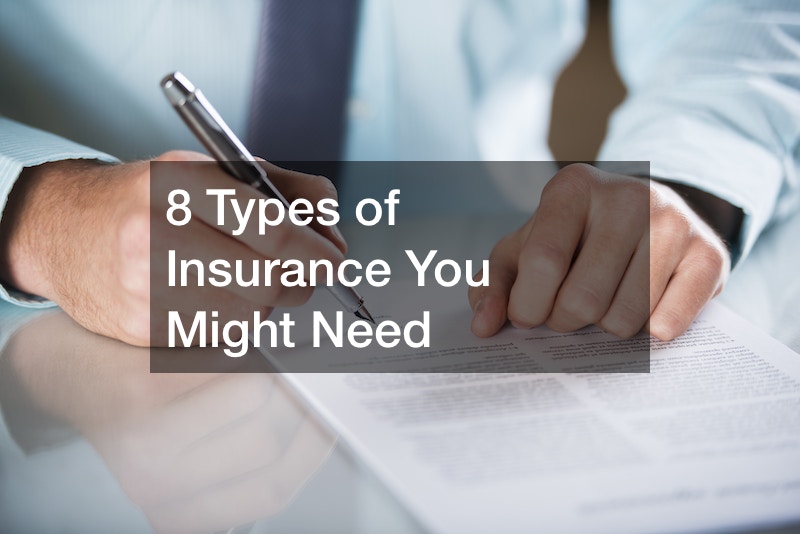 Many insurance policies exist, and they all provide a certain level of financial protection for unforeseen incidents. The following are 8 types of insurance you might need, how they can help you, and why you should consider opting to purchase them.
1. Homeowners Insurance
Homeowners insurance is perhaps the most popular of the 8 types of insurance. You might need to purchase such a policy if you decide to take a home mortgage and obtain a house for yourself and your family. Many home buyers purchase this product to protect themselves if something happens to their property. Likewise, some mortgage companies require borrowers to buy it to safeguard their financial investments.
The features and benefits of a homeowners policy can vary depending on the company. Generally, this type of insurance mainly covers home structures and personal belongings in instances of a fire or natural disaster.
An insurance product of this type can provide you with the funds you need to have your home rebuilt or repaired if any such incidents occur. You can also replace personal items such as furniture, clothing, electronics, and equipment, should they become destroyed in a disaster or stolen.
Some insurance companies offer additional coverage and add-on features for homeowners who want to protect themselves against additional circumstances. For example, you might request flood or earthquake insurance if you live in an area prone to experiencing those dilemmas.
The amount of coverage you need depends on your home's value. Typically, homeowners purchase policies with coverage equal to or more than the cost of their homes in case they need to have them rebuilt. An insurance agent can help you determine the value of your home and personal belongings so that you choose the correct amount of coverage.
You will need to pay an insurance premium monthly or annually to maintain your coverage, and you'll have to file a claim with the insurance provider if an incident occurs.
2. Car Insurance
Car insurance isn't one of the optional 8 types of insurance. Your state will require you to purchase a policy if you operate a vehicle. You must obtain a policy before registering your vehicle or exiting the dealership with a new car. This product aims to ensure that all vehicle operators have protection in case of a car accident. Auto policies provide financial resources for medical bills, auto care, and repair for victims.
Each state has a predetermined minimum amount of insurance drivers must obtain. Many people refer to this bare-bones policy as minimum liability insurance because it only covers partial medical expenses and property damages for the other party involved in the accident.
Comprehensive and collision are additional coverages you may have to purchase if you finance your vehicle. Lenders usually require their borrowers to purchase them along with minimum liability coverage and keep them for the duration of the loan.
Comprehensive insurance provides protection for non-accident-related damages, while collision coverage takes care of auto repair needs in accident cases. Having comprehensive and collision coverage is referred to as having 'full coverage.'
You can choose whether to obtain minimum liability coverage or full coverage based on your car's value if you purchase your vehicle outright. Generally, minimum liability policies are appropriate for vehicles with less than a $2,000 value. You may also opt to choose a low-coverage policy if you want to save money for a few months.
Your provider may also offer additional add-on features you can tailor according to your personal needs. For example, you can request roadside assistance or car rental reimbursement add-ons if you rely on your car heavily.
Auto insurance policies have a monthly premium, deductible, and coverage amount. The monthly premium varies depending on the policyholder's vehicle, driving history, credit score, and individual insurance provider.
Deductibles are fees a policyholder must pay before receiving an insurance benefit. They range from $0 to about $2,500, and you can choose yours according to your financial health. A higher deductible usually yields a lower monthly premium and vice versa.
3. Medical Insurance
Healthcare coverage is one of 8 types of insurance you need for basic survival. It assists with doctor's visits, medication prescriptions, diagnoses and treatment, rehabilitation, and more. Such plans cover the bulk of the costs and make healthcare much more manageable. Current policies make health services even more accessible by giving members access to telemedicine platforms.
There are typically three ways you can obtain a healthcare policy. One way is through your employer. Many companies have group policies for which they pay most of the premium. Employees then agree to have small deductions taken from their checks to cover their portions.
A second way to get healthcare coverage is to purchase a private policy from a provider. This method is the most costly, as no other party absorbs a percentage of the premium.
The third way to get healthcare coverage is to visit a governmental agency for assistance. Medicaid and Medicare Advantage are two types of policies you may qualify for because of your financial situation, age, or disability.
The federal government subsidizes health plans for certain individuals as well. Open enrollment periods for those policies usually begin in November and end in December.
Healthcare policies work similarly to auto insurance plans. A monthly premium keeps you insured, and you must pay a deductible before your policy provides benefits. You may also have coinsurance or copay fees to pay before or after obtaining services. For example, you might have to pay a doctor's office 20% of the cost of a procedure.
4. Vision Insurance
Vision insurance is one of the 8 types of insurance users mostly recognize as optional. It provides help for vision checkups, glasses, contact lenses, eye surgery, and other types of eye care. This type of coverage is a typically inexpensive and wise addition to other benefit selections.
You probably won't miss the premium from your check because it will likely cost only a few dollars. Many vision plans offer at least one free annual eye exam and cover a considerable portion of the cost of the policyholder's first pair of glasses.
There are many reasons to consider investing in a reliable vision care plan. The eyes lose some of their functionality as people age, and thus, it's an excellent product to have handy. Medical conditions can also affect eyesight, and accidents can occur as well.
Therefore, it's something to consider if your employer offers you access to it. Alternatively, you can invest in a private policy. The premium may cost you more, but it will not break your bank.
5. Dental Insurance
Visiting a dentist at least twice a year is vital to protecting your tooth enamel and staying healthy. A dental insurance policy can make honoring those appointments more affordable for you.
Many benefits come with dental policies, and one of them is an annual checkup. A standard teeth cleaning is another procedure you may receive. Most providers pay 100% of the yearly cleaning and checkup costs. Dental plans also absorb portions of the cost of minor and major tooth repairs, devices, and orthodontic care, such as adult braces.
Minor care may include procedures such as simple extractions, fillings, and limited pulp therapy. Major care includes things like root canals, gum disease care, orthodontics, and cosmetic items, such as veneers, crowns, and bridges.
Dental plans typically have small monthly premiums and deductibles and are quite affordable. However, you must pay close attention to the waiting periods before choosing a policy. Many of them require policyholders to wait a certain amount of time before receiving coverage for major dental care.
For example, your policy might not cover a root canal or orthodontic care for 12 to 18 months after it activates, which will cause a dilemma if you have an existing issue. Furthermore, not all programs offer the same benefits. Thus, you may not have access to adult orthodontia on all plans.
You'll be more equipped to find a suitable dental plan if you perform a thorough comparison that includes diving into the benefits list and waiting period information. Take your time when researching number five of the 8 types of insurance, and you'll receive the most advantageous option.
6. Boating Insurance
Boating insurance is another one of the 8 types of insurance you might need. It's a product you may want to consider if you intend to purchase a new boat. These policies cover various types of vehicles, like fishing boats, sailboats, jet skis, and the like. They cover the boats when unexpected incidents occur because of weather conditions, temperamental water behavior, and accidents.
Liability coverage is one type of protection you'll receive if you invest in this product. It provides funds for instances in which your boat causes damage to someone else because of a large wake or accident.
Your liability coverage will take care of some of the costs for the victim's boat repair. It's usually included as a part of basic coverage, and it provides protection for settlements and claims against you. Therefore, it may cover the costs of legal fees and settlements.
Protection for physical damage to your boat comes with boating insurance as well. It typically covers the hull, motor, anchors, batteries, fuel, tanks, etc. Storms, fires, theft, and collision-related incidents generally qualify for an insurance claim.
7. Renter's Insurance
In most cases, you can consider renter's insurance as one of the optional 8 types of insurance. However, some apartment complexes now require their residents to invest in it as part of the lease agreement. It's a suitable type of coverage if you are currently renting a condo, apartment, house, or alternative property.
Renter's insurance will provide a level of financial protection for the unit in which you reside, and it may also cover your personal belongings. You could be eligible to receive the benefit if you experience thievery, fire, or natural disaster.
Finding the most suitable policy requires research and comparison. Renter's policies typically aren't expensive, but some of them have more features than others. For example, some policies may provide monetary assistance if you have to stay in a hotel or motel while your apartment or unit receives repairs.
You will need to perform calculations to determine how much your personal property is worth. That will enable you to choose a sufficient insurance coverage amount.
8. RV Insurance
The last of the 8 types of insurance to choose from is RV insurance. It's something you might be interested in if you own or intend to buy a recreational vehicle. You might feel it's a good choice since you'll be traveling to various parts of the world, and anything could happen. RV coverage can give you the peace of mind you need as a traveler.
Policies vary between companies, but they mainly include vehicle replacement coverage and 'personal effects coverage.' Personal effects are items such as appliances, clothing, electronics, and other things you might have on your RV unit when an incident occurs. Some policies have a coverage amount dedicated to those personal belongings.
Most RV policies cover accidents and cases of theft. They work the same way as other insurance policies, where you will have to pay a monthly or annual fee to keep coverage. There may also be a deductible amount you need to pay before your insurance policy covers your RV unit.
As with all other insurance programs, you should perform a full investigation to find the most suitable product. Many providers offer additional benefits, and some RV policies come bundled with coverage for regular vehicles you might own as well. Carefully choose something that will give you the confidence you need to take the roads less traveled.
As you can see, all 8 types of insurance can be useful in helping you navigate life more confidently. Consider speaking with a respectable insurance company or agent about securing a policy for yourself today. Obtaining one of these products can provide you with the support you need in an emergency to stay afloat during difficult times.