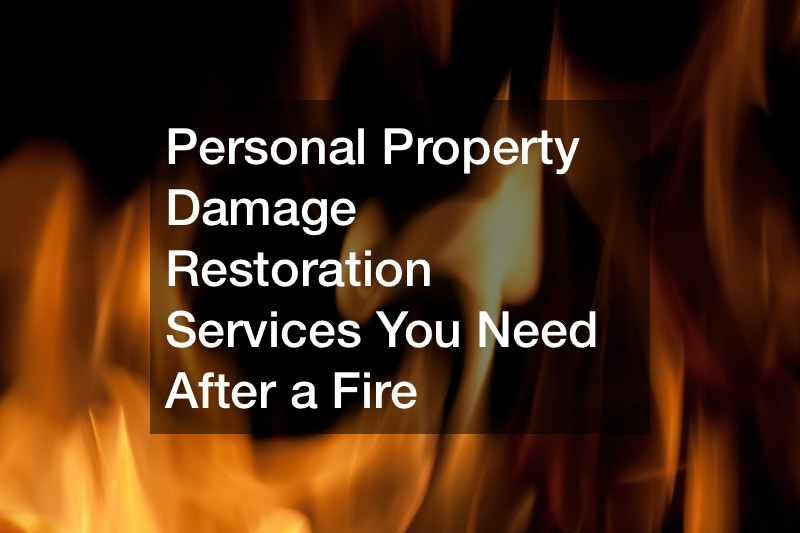 Fire damage is devastating, and the restoration process can be overwhelming. If you've experienced fire damage, you can overcome the mess by addressing the problem urgently and professionally. Here are the main personal property damage restoration services you may need.
Major Renovations
The first important step after fire damage is to assess the level of damage. How safe is the property? And how extensive are the damages? This step is crucial, so you may need a structural engineer to help with the inspection and recommend the major renovations you may undertake.
The inspector should determine the heavy structural problems caused and how they will be renovated. For instance, if the home's basement is damaged, it must be repaired first because it holds the rest of the home.
The floors, attic, and walls should be in excellent condition before starting renovation projects. Otherwise, you shouldn't start plumbing or electrical repairs when there are structural problems.
Once you identify the major renovations, engage a reliable home improvement business to take you through the general repair process and offer the right advice. Create a budget to know the costs of the renovation project.
Only seek the other personal property damage restoration services once you've understood and sorted the structural issues. The structure and foundation of your property should be stable to pave the way for the other remodeling projects.
Kitchen Repairs
A kitchen is one crucial area you may need to restore after fire damage, especially if it was the fire's origin. You'll need to ensure that no further damage will happen to your property, so you should hire a kitchen remodeling expert.
Here are the main types of personal property damage restoration services you may need in your kitchen.
Painting: Fire can damage your kitchen paint and make the entire look unappealing. If that's the case, find kitchen remodeling experts to add fresh paint and make your kitchen more attractive. You can retain your old color paint or choose a new one.
Cabinets: Cabinets have functional and aesthetic benefits, so you should restore damaged cabinets in your home. Choose the ideal types of cabinets you'd like to add and seek reliable cabinet services for the installation.
Appliances: Have you lost many appliances to fire damage? Don't worry; there are many types of modern kitchen appliances that you can choose to make your kitchen more functional. Dishwashers, microwaves, water heaters, refrigerators, and water softeners are some of the appliances you may consider when remodeling your kitchen after fire damage.
Flooring: You may change your kitchen flooring after fire damage. The main floor options for your kitchen are wood, tiles, lamination, vinyl, or concrete. Work with a flooring expert for the best restoration service in your kitchen.
Plumbing Repairs
Plumbing is a critical component you should check after fire damage to your property. However, the inspection should be done by a residential plumbing expert to avoid making more mistakes. Here are the main types of personal property damage restoration services an experienced plumber may offer.
Pipes Inspection
Pipes inspection after fire damage helps know the severity of damage to identify the ideal restoration measures to be used. Even though most plumbing pipes pass underground and may escape damage, the inspection is still important to ensure they are okay before proceeding with other restoration projects.
Plumbing Fixtures
Plumbing fixtures like sinks and faucets can also get the impact of fire damage. The damage may not be severe if you have installed stainless steel fixtures, but the inspection is important to identify what should be restored.
Repair and Replace
You should repair and replace plumbing systems parts that could've sustained fire damage. Repair requires expertise and the right tools, so only a plumber should do the work. The plumber may restore some plumbing components, including pumps, dishwashers, and toilets.
Insurance Claims
You can feel helpless when fire destroys your property. However, you can file for an insurance claim using your homeowner's insurance so that the insurer can take care of the repairs.
The claim application process involves multi-steps; some may be complex if you've never encountered such a situation. If you experience struggles or don't know where to start, find a good insurance lawyer to take you through the process and help you get compensation.
Insurance dispute attorneys are experienced in the claims application processes and work in clients' favor. A good lawyer can offer timely advice and help you get personal property damage restoration services. Here's the basic process for issuing an insurance claim after fire damage.
Document Fire Damage
Take pictures, videos, and any other proof that shows your property has been damaged by fire. The more proof you provide, the easier the insurer can offer compensation for the damages.
Insurance Coverage
Inform your home insurance provider within 14 days of the fire damage to increase your chances of getting restoration services. Once you call, your insurer will ask you some questions about the fire damage, and you should honestly ask them.
Restoration
Your insurance firm will give a quote on what they are willing to spend on the restoration service. They'll send an adjuster who works in their favor and can find a fire damage restoration to help you estimate the level of damage and the minimum amount/services you should get from your insurance provider.
Window Repairs
Fire may damage your windows to varying extents. Sometimes, you may only wipe the soot on the windows or clean them well to remove the ash. In other situations, an entire window repair or replacement may be necessary if the heat breaks the windows or the frames are damaged.
If you're dealing with fire damage, inspect your windows well and find an experienced contractor for repair and replacement if the damage is severe. Here are a few actions you can take regarding your windows after fire damage.
Cleaning
Cleaning is the most basic action that allows you to see any cracks in the windows well. Use a deodorizer, and be gentle to avoid causing further damage or harming your hands.
Repair or Replace
Repair your windows if the damages are mild, or replace them if they are damaged by fire. Common signs that your windows need repair or replacement include large cracks, damaged frames, or seals.
Nowadays, there are many energy-efficient windows that you may consider if you need to replace the old ones. You can even add a window shutter which is energy efficient and adds to the aesthetic appeal of your property.
Electrical Repairs
Electrical repairs are part of property damage restoration services you should get after fire damage. Your electrical system is critical, and single damage could cause a potential risk if left unattended. That's why you should seek the help of local electrical services for a thorough inspection and repair.
Here are the main types of electrical repairs you may consider after fire damage to your property.
Wiring Repairs
Electrical wiring helps supply electricity to every room on your property. However, fire can damage the wires, making it hard to enjoy a constant electrical supply in your home. Professional wiring repair and installation can help ensure a constant supply of electricity in your house.
Lighting Repairs
Like wiring, fire damage can destroy lighting fixtures and appliances. An experienced electrician should help install new, energy-efficient ones on your property.
Washers
Washers are expensive electrical appliances you can't throw because of minor damage. Call an electrician to inspect and repair them if they are not damaged.
Alarm Repairs
Alarm repairs and smoke detectors create alerts when there's a problem. Call an electrician to inspect your alarm systems and repair or replace them if they're damaged.
Exterior Repairs
Restoring your home after damage can be overwhelming and physically exhausting. However, you shouldn't forget about the exterior parts of the property because they're as important as the interior ones.
Your front door, external walls, and the yard create a great first impression about your property, so you should ensure they are well maintained, even after fire damage.
Does fire damage your compound? If yes, engage a reliable hardscaping company for expert landscaping and other personal property damage restoration services. Here are the main exterior repairs you may undertake after fire damage to your property.
Painting
Fresh paint improves your property's beautiful look and prevents moisture from getting in. After a fire accident, chances are your external paint will have soot or be damaged. Hire an experienced painter for fresh paint to restore your home's look.
Driveway Repairs
It's possible that your driveway no longer looks as beautiful as before the fire damage. If that's the case, repair it with durable construction materials like asphalt and concrete.
Siding Repair
Siding enhances the look of your property, keeps off moisture, and promotes energy efficiency in your home. After a fire incident, your siding may peel or bubble, making it less effective. Repair or replace damaged siding to restore the great look of your home.
Patio or Deck Repair
A patio is an incredible area where you can rest on hot days and enjoy relaxing moments with your family. You may need patio/deck restoration services after fire damage to retaining the original look.
HVAC Repairs
An HVAC unit is vital in regulating air in your home. However, this important component can sustain fire damage and reduce its effectiveness. The most obvious signs that your HVAC unit has been damaged by fire are burn marks, melted parts, and soot.
Determining the severity of damage in your HVAC unit isn't easy, and you may need the help of an HVAC specialist for the work. The expert should assess the affected parts and advise whether a repair will be enough or if replacing the entire unit is necessary.
Sometimes, your HVAC unit may not show visible signs of damage, but soot and ash could block the air filters or vents. In such cases, the filters may need cleaning or a replacement if they are old. If you use ductless HVAC systems, inspect each mini-split system, even those that didn't get direct fire effects.
Chimney Repairs
A chimney safely removes smoke from your home. When it is damaged or clogged because of fire damage, it will retain toxic gasses like carbon monoxide in your house, causing health problems.
After fire damage, you may need chimney personal property damage restoration services from a chimney inspection company. The experts should examine your chimney's parts to identify the damaged parts and take the necessary actions.
Depending on its severity, fire can damage the lining of your chimney, the mortar, cap, and crown, or the coating. You may not easily notice the damages because of its upper location, which requires careful inspection.
Chimney inspection contractors have the tools, gear, and even the expertise to check your chimney and know the most affected parts. Therefore, don't ignore a chimney after fire damage to your property; schedule for inspection as soon as possible to identify the issue and solve it accordingly.
Roof Repairs
After a fire accident, chances are your roof will get the flames impacted and damaged. The shingles could become loose, gutters may be affected, or the roof may discolor. Therefore, inspecting and repairing your roof immediately after a fire incident is necessary.
Roof repairs should only be done by a reputable residential roofing company. Here are the main types of repairs you can expect from your contractor after fire damage.
Shingle Replacement
Shingles come in many types and are prone to damage from disasters like fire. If your shingles are damaged by fire, your roofing contractor will recommend repair or replacement according to the level of damage. In case of repair, choose a modern, energy-efficient roof to save on future energy bills.
Gutter Repair or Replacements
Gutters remove water accumulation from your roof, and they can be damaged after a fire accident. Clean and fix your gutters immediately to improve your roof's functional and aesthetic benefits.
Roof Sprinkler Installation
A roof sprinkler prevents future fire damage on your roof. This is particularly important if your property is in a wind-land area, meaning it's prone to fires. The sprinkler protects the roof and also keeps your family safe.
Dealing with a fire accident is a hard thing to deal with as a homeowner. If you've experienced fire damage, seek the above personal property damage restoration services to improve the look and value of your property.