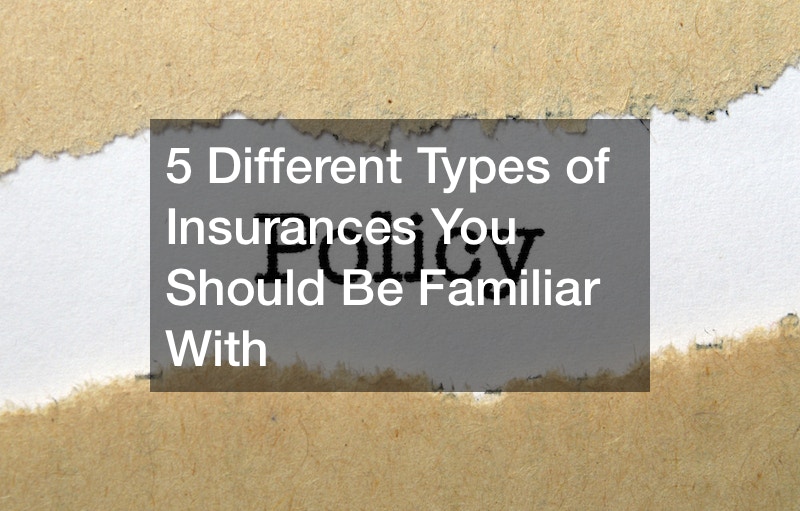 When flipping through your typical insurance magazine, you can become overwhelmed by the different types of insurance on offer. With so many different types to choose from, it can be easy to get confused. Luckily, this article will help you avoid these issues by exploring the five main types of insurance and how they can affect your daily life.
Why Do You Need Insurance?
Protects Your Financial Future
Many people view insurance as a mandatory safety net, only to be used in the worst-case scenario. However, insurance can help protect you from unforeseen events and ensure that you have the financial assets needed to protect yourself. It can also help to add a sense of predictability and stability to your everyday life, allowing you to make important financial decisions with ease and confidence.
Can Provide Tax Benefits
Certain types of insurance can offer tax relief, which can also help to lower your monthly expenses. If you are a business owner who provides health insurance for your employees, you can deduct this cost from your overall profit. Therefore, you do not have to pay tax on this employee benefit. As such, businesses can continue to support their most loyal employees, whilst still seeing high levels of revenue and profits.
Diversifies Your Financial Portfolio
If you are an avid reader of an insurance magazine, you may already be aware that life insurance is a key asset to everyone. But, this type of insurance can also help to diversify your financial portfolio, which is ideal for those looking to spread out their potential in the market. This insurance is not influenced by the state of the economy and can be distributed between a number of heirs, protecting you and your family when your time comes to an end.
Number of Different Options Available
Though the insurance market is incredibly vast, it is also deeply diverse, providing you with a plethora of different options to choose from. This is particularly useful for those who may be put off by traditional insurance companies and would prefer to place their assets in the hands of a more nuanced establishment. Therefore, even the most fickle of people are sure to find an insurance provider that can best protect their wealth.
It Is a Legal Requirement
Although not all types of insurance are mandatory, some are considered to be a legal requirement in the US. Take for example car insurance, which is a standard requirement across most states and ensures that drivers can not travel on the road unless their vehicle is adequately insured. This helps to protect the rest of the population and makes sure that both parties can be held accountable if an accident were to occur.
Different Types of Insurance You Should Be Familiar With
1. Auto
Since car insurance is a legal requirement across a majority of the US, it is vital that drivers are fully aware of what these policies entail. This type of insurance typically covers you if you are liable for any damage you may have caused to someone else's car as well as the damage caused to your own. Some policies will also pay for your medical bills if you are injured by an uninsured driver. The damage committed to your car can be repaired at your local auto body shop, ensuring that you can get back on the road as quickly as possible. These auto repair services will assess the performance and quality of your vehicle and implement any remedies for its problems. If you are lucky, you may only need a spot of car touch-up paint, but if things are worse, these experts can ensure that your car is back to being safe and secure.
2. Long Term Care
As we get older, it is important that we consider how we are going to take care of ourselves. Long-term care insurance typically provides you with a regular source of income that can be used to pay for your stay at a nursing home or care facility. This insurance also covers the cost of senior living apartments, allowing you to still enjoy your independence as you enter your golden years. Though many people would prefer not to think about their later life, this type of insurance can help you live a lucrative life in your old age, especially if you suffer from a disability or are unable to complete regular tasks.
3. Home
Any reputable insurance magazine will advise you to take out a home insurance policy as soon as you purchase a new property. This type of insurance covers a lot of bases, including protecting your home and belongings from any damage or theft. If your home has experienced a lot of damage in a harsh storm, your insurance provider will help you get in touch with a general contractor to aid you in your repair process. These providers will also recruit a selection of new home building drywall installers to ensure that the entire foundation of your home is rebuilt correctly and in a reliable manner.
4. Health
Health insurance can be a very costly expense for a lot of people, but it can help you save a lot of money in the long run. Typically, the customer would be required to pay regular payments, also referred to as premiums, to help them avoid paying large payments upfront. So, if you need any medical care, your regular payments would help to cut the cost of your overall medical bill, ensuring that you can receive the correct care without putting yourself into debt. Health insurance can be used in a variety of scenarios, from check-ups with your primary care provider to treatment at the urgent care center. It can also provide you with an abundance of different services, such as in home physical therapy services, as well as a normal telehealth appointment. In turn, this is an incredible asset if you are eager to protect yourself and your finances from any potential mishaps.
5. Business
Business insurance is an essential asset to entrepreneurs as it protects them and their companies from everyday risks, damages, and threats. There are a number of different business insurance policies to choose from, helping to protect you from cyber attacks, and supply-chain breakdowns, and even cover the cost of your employees' well-being. Thus, you can ensure that your business is constantly booming, regardless of the circumstances. From a heating oil business to a local carpet business, this type of insurance is mandatory as it ensures that both the owner and their employees are covered if something goes wrong in their workplace. Be sure to consult your usual insurance magazine if you would like to learn more about how business insurance can benefit you if you use vehicles for work or if your employees work from home.
Benefits of Having Insurance
Can Lessen Your Losses
Life is teeming with uncertainties and tumultuous times, leading us to lose the things and people closest to us. Although insurance may not be able to restore our lives to the way that they were, it can help to cover our losses and give us a better platform to start again. Insurance policies can help to pay off our medical bills and give us the resources needed to rebuild our houses or organize a funeral. Thus, these policies ensure that we do not need to sweat the small stuff and can focus on moving forward after a difficult situation.
You No Longer Have to Depend on Others
Though we all need a helping hand at times, insurance policies can ensure that we do not depend on those closest to us if something bad were to happen. For example, long-term care insurance allows us to plan ahead so that we do not have to rely on our children or spouses when we need someone to take care of us. It also ensures that we do not have to ask others for financial aid, especially when it comes to our medical expenses. Therefore, you can focus on strengthening your most important relationships and you no longer have to worry about paying them back or placing too much responsibility on your nearest and dearest.
Covers You as Life Changes
Your insurance should be with you every step of the way and should be altered when you reach large milestones. So, when the kids go off to college or when you decide to get a flashy new car, your insurance should be altered so that it suits your new pace of life. This can really benefit those who consider themselves to be free spirits and may not stick to one thing for very long. As such, you can ensure that your assets are covered, even if your life is incredibly flexible.
5 Things to Consider When Buying Insurance
1. How Do I Want to Be Protected?
Even those who want complete protection do not require every type of insurance. As such, it is important that you research the best types of insurance for your lifestyle and ensure that they can be implemented correctly. You must also look into mandatory insurance policies and make sure that you are taking out legally required plans where necessary. In turn, you should select policies that can best protect you rather than choosing a bundle of plans that may not be necessary in the future.
2. Am I Getting the Best Deal?
Insurance can be a hefty strain on our budgets, so be sure to choose a provider that best suits your income. If you feel that your plan is getting too expensive, try to shop around and find a provider that offers similar benefits for a lower price. An insurance magazine can also support you in this process, providing you with crucial industry news and insights to help you make the best decision for you and your financial future.
3. Do I Require an Agent?
An insurance agent typically represents a plethora of major insurance companies and uses their expert knowledge to provide you with the best policies. These individuals are most commonly used by businesses to help them achieve the most lucrative price and benefits from their current plan. However, they can also be recruited by individuals to help them get their finances in order. Though these agents can be a real asset to those who are struggling to get their heads around the complex world of insurance, they may not suit those who are keen to choose an insurance provider on their own terms.
4. Should I Upgrade My Policy?
When selecting an insurance policy, we may decide on the minimum requirement to help save us time and money in the short term. However, if you want to earn the most out of your current plan, it may be time to upgrade your payments. You can discuss your target premium with an insurance agent or provider, helping you to gain more perks, without handing over more than you could afford. This is an important aspect to consider if you have received a pay rise and would like to protect yourself against any unexpected downfalls.
5. Can I Gain a Multi-Policy Discount?
A lot of major insurance companies will provide their customers with an elusive discount if they decide to take out more than one policy with them. As a result, you can save money on your car, home, and health insurance by simply remaining with the same provider. This is particularly useful for individuals with stable incomes who are able to make regular payments but do not want to waste valuable time and effort seeking out individual policies for their assets.
Insurance is a crucial aspect of our lives as it helps to protect us in the present and in the future. Although it can be scary to think about all the unfortunate circumstances we could face in the years to come, it can also help us to feel more prepared and have a better peace of mind. If you are eager to learn more about insurance and how it can benefit you, be sure to research the advice offered in this article and consult your insurance magazine of choice.