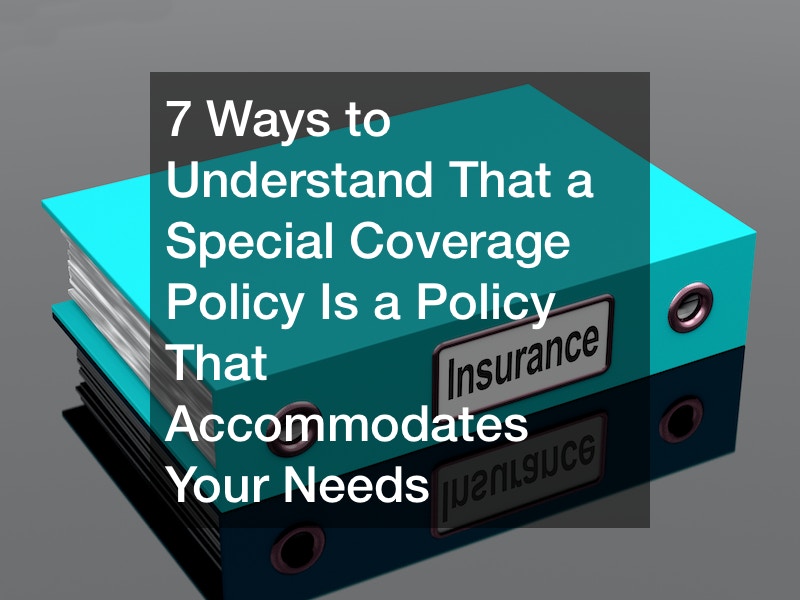 When structuring your insurance policy, the type of coverage you choose plays a key role in determining to what extent your property is covered. A special coverage policy is a policy that offers comprehensive protection for your property. Compared to Basic and Broad Form coverage, this coverage is quite different. Special Form Coverage protects against all hazards unless they're expressly excluded, as opposed to only those listed in the policy. With a list of generic occurrences and an explicit listing of individual incidences that aren't covered by the policy, this strategy is also known as 'open perils' coverage. Here are 7 ways to understand that a special coverage policy is a policy that covers your needs.
1. You Can Trust Your Agent to Protect You
You need insurance. Auto, home, health, and life insurance offer financial security against unanticipated financial calamities. However, one can't help but harbor a sneaky suspicion that they can't rely on their local insurance agent to get them the best bargain. The truth is, whether it's insurance agents or bail agents, there is dishonest personnel in every industry. However, the great majority of insurance agents are competent, honest, and diligent workers. They devote their time to serving their customers. The majority of them also strive to ensure their customers have the greatest insurance coverage at the most affordable price. Consider the following if you need further persuasion to believe your insurance agent: Insurance brokers are paid on commission. They only make money after closing a sale. This means that insurance agents have to be fair and honest with prospective clients. A bad reputation can quickly sink an insurance agent's business, and nothing spreads faster than a negative word. Smart insurance brokers are aware that short-term financial advantage from signing clients up for expensive policies that they don't actually need would be rapidly overshadowed by the negative publicity such a move is likely to attract.
Insurance agents who fail to build relationships with their customers based on trust don't make it in the industry, which is viciously competitive. Agents who provide anything short of excellent client service find it difficult to grow their businesses. In fact, there's a high chance that they'll fail given the current economic climate. Another reason to trust your insurance agent is that they're required to complete continuing education classes annually to keep their licenses. This education places a strong emphasis on ethics. Unethical agents face the very real possibility of having their licenses revoked, which will not only see them lose their business but their careers as well. Smart insurance salespeople understand that the immediate gains of tricking customers into a policy aren't worth the risk.
2. Insurance Rates Are Carefully Calculated
A special coverage is a carefully calculated policy. The sum of money an individual pays for their insurance policy is referred to as the insurance premium. It's essentially the fee the insurance company charges to offer coverage. Depending on the specific insurance plan, the insurance premium can either be paid annually, quarterly, or monthly. There are many insurance plans available on the market, and the premiums associated with each can differ depending on a thoroughly calculated set of variables. The premium you pay is primarily determined by intricate statistical and mathematical analyses.
An underwriting division gathers a lot of data, including details about a person's age, income, health, and place of residence. This information is then examined to determine the likelihood of a client filing a claim. The cost of the premium increases with the likelihood of a claim.
When calculating home title insurance, the home's purchase price is multiplied by the rate per thousand used by your insurance company, which is a standard rate applied for each $1,000 calculated for your home's value. For instance, if the rate is 0.6% per thousand and you own a $300,000 home, the title insurance costs will be $1,800. However, some companies determine their premiers using a bracket system. Homes worth up to $100,000 will have a different percentage per thousand than homes worth $100,001 to $1,000,000.
The total prices are also affected by additional factors, such as the time spent on a title search, examination, and correction of any title defects. Sometimes you might wonder why title insurance premiums are so high at the time of the closing. The cost of title insurance is included in the home's closing fees and is a one-time expenditure. This is why title insurance costs don't fluctuate and can seem high to buyers who've just made a pricey purchase. You can use an online title insurance calculator to project insurance rates.
3. You Can Get Insurance for Just About Anything
A special coverage policy is a policy that is intended to provide a guarantee of protection in a specific situation. Your company needs its own unique insurance coverage for the dangers unique to your industry. These can occasionally be purchased separately or added to your policy as endorsements. Your business or home insurance policy typically includes one of the three coverage form choices available under your home or business insurance policy: basic, broad, or special form. The primary distinction between the coverage forms is quite straightforward. The broad and basic forms fall under 'named peril' coverage forms. This means they precisely state which risks are covered under the insurance. Special form coverage, in contrast to named risk coverage, is frequently referred to as 'all-risk' or 'open peril' coverage.
In essence, it means everything is covered except for the exclusions specified. This covers a lot more ground than the named risk forms and can mean the difference between a denied claim and one that puts thousands of dollars back into your pocket. Examples of special coverage include insurance for cosmetology, bankruptcy, accounting records destruction, etc. A special coverage policy is a policy that clearly explains what's covered and what's not.
4. You Don't Have to Work With an Agency You Don't Trust
Are you working with a dependable insurance agent? Word of mouth is an effective way of finding an insurance agency. Ask your family and friends for recommendations, but ensure your friends are endorsing the agency for the appropriate reasons. Interview two to three agents before making a decision. Be specific about your needs, like you would with a lawyer or an accountant. Discuss your situation with them to see which ones can offer you the best advice. Don't hesitate to ask an agent about their experience and request to see a resume if possible. You may be tempted to go for the cheapest, but this isn't the best approach if you want to find a trusted agent. Many individuals seek out the lowest insurance they can get, but this could come back to haunt them if the other fundamentals are not solid. A special coverage policy is a policy that makes sure that an insurance policy doesn't come back to haunt you.
There's more to an insurance agent than just a great price. By just basing your search on the most affordable insurance companies, you can be tied to a provider who isn't looking out for your best interests. If and when you need to file a claim, the insurance company may employ unethical tactics to make a profit. You get just what you pay for with insurance. Find a service provider with affordable prices, but keep an eye out for signs of unscrupulous practices. You don't want to spend your hard-earned money on an insurance company that's operating illegally. Always make sure an agent is properly licensed and has extensive industry experience.
5. Try Lumping or Bundling Your Policies
A special coverage policy is a policy that can be bundled. Just like you would get a discount for buying in bulk at Costco, your insurance company may reward you for having multiple policies with them. You can qualify for a 'multi-line discount' on your insurance by bundling your policies, with discounts ranging between 10% and 15%. This depends on the policies you're bundling, how long you've had insurance, and the insurance provider you're using. The most common bundle includes a vehicle and property, such as your auto insurance and homeowners' insurance. However, you're not limited to these options. Bundles come in a wide variety, and your provider can tailor one with practically any sort of special coverage you need.
A special coverage policy is a policy that prioritizes establishing a solid relationship with your agent. This is always a good idea as it helps them better understand your needs. The more insurance policies you have together, the better your broker will understand your needs. This makes it easy for them to get you extra discounts, recommend additional coverage, and seamlessly fill in any gaps in your coverage. Not having to evaluate your policies more than twice a year would be nice. Bundling your policies means they'll probably renew at around the same time, which makes reviewing them much easier.
Since insurance brokers do all the work for you, there's no reason to worry about bundling your policies. They have access to a range of insurance providers. The more information you provide them with, the better equipped they'll be to review your policies and suggest adjustments that'll save you money and keep you safe, which includes switching to auto insurance agencies if the coverage you need isn't being offered anymore. Or, perhaps, the premium has increased dramatically. When you bundle your policies, such decisions and processes are much easier and stress-free.
6. Consider Every Type of Insurance Your Business or Property Should Have
A special coverage policy is a policy that addresses the specific insurance needs of your business. Depending on the industry you operate in, you may need to obtain different types of insurance. This is because each firm deals with different risks and challenges. General liability insurance also referred to as business liability insurance or commercial liability insurance, protects you against claims, including damage to rental property, product-completed operations, medical payments, personal or advertising injury, property damage, and bodily injury.
A business owner's insurance policy, or BOP, combines property coverage and general liability insurance. In addition to commercial building and mobile property coverage, a BOP offers liability coverage for claims, which include client injuries, product-related claims, and property damage. Most BOPs also offer business interruption coverage, which reimburses you for lost revenue if you have to close for a period of time. Owners of small and medium-sized businesses, such as retail stores, restaurants, and wholesalers are most suited for this coverage type. However, employees are not covered by BOP insurance.
If you operate in the construction management or design-build industry, you'll need a contractor's professional liability insurance. This facility covers professionals against construction-related errors or losses that may occur during the planning, designing, and building of a structure. Additionally, it can shield you from mistakes made by independent home builder contractors working on a project. For instance, if you come across an orthodontic office for sale, bear in mind that you'll need to have an appropriate insurance policy that covers your specific niche.
7. Don't Hesitate to Ask Questions
To ensure you get the best coverage possible, make sure you ask the right questions just like you would, for instance, a job agency Tulsa Ok. Industry-specific coverage needs vary. The insurance coverage for a restaurant owner differs from that of an auto body shop. Your agent should be knowledgeable about industry-specific demands and offer advice on special requirements related to your sector. For instance, landscapers require insurance that, among other things, covers them in the event of a car accident involving a commercial vehicle. Companies that use pesticides and herbicides need protection from chemical spills and other hazardous situations. Don't hesitate to ask your agent for advice on what add-ons to current policies or additional policies can have a significant impact should an accident occur. A special coverage policy is a policy that addresses all the questions you may have.
A special coverage policy is a policy that accommodates your needs. It can be customized to meet your specific needs, regardless of how specific they are. However, if you can't think of all the potential risks to your assets and assess how likely they are, given the cost of coverage and your financial situation, contact your insurance agent before making a decision.